MEMUSE (FREEWARE)
Memuse is memory and swap file monitor. Memuse shows current physical and virtual memory usage information.

Screenshot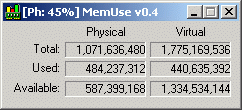 Features
Tiny executable.
Shows Memory Information (Physical and Virtual)
Stay On Top option. (System Menu)
Windows XP Theme support.
Shows Physical percentage value in the title of the window.
Can show memory usage in KB.
Installation
No special installation is necessary, just unzip and run the executable.
Download