Win32Spy 0.3 (FREEWARE)
Win32Spy is a window and mouse spy. Win32Spy shows you window information and mouse location.
Screenshot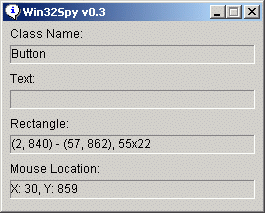 Features
Tiny executable.
Shows Window Class Name and Text
Shows Mouse Coordinates
Stay On Top option. (System Menu)
Shows Window Rectangle/Size
Can now show information for controls inside Group Boxes
Installation
No special installation is necessary, just unzip and run the executable.
Download
win32spy.zip ~5k